The Tolkien Society's 50th Anniversary celebration, Tolkien 2019, is over. Taking place in Birmingham from August 7 to 11, the event featured guest speakers, entertainments, an art show, masquerade, orchestra, the play Leaf by Niggle, and many speakers, of whom I was one.
For those who were fortunate enough to go, it was a wonderful opportunity to greet old friends and meet new ones, but no one could possibly attend every session in the program. For those who could not go to Birmingham, I know how hard it is sometimes to read all the excited posts about other people's experiences. Luckily, a number of summaries have been posted of quite a few talks, and the special guest presentations are available on video, so there is much that can be seen both for those who missed the whole thing and also for those who were there but couldn't get to every session.
Several bloggers have summarized the sessions they attended:
You can find abstracts of all the presentations and biographies of the speakers on the Tolkien 2019 website; click on the Programme and scroll through towards the end of the document.
Many of the summaries above comment on the same sessions. I'll add a few speakers that I was interested in:
Dr. Sara Brown, "Taking Care of the Land: Stewardship in Tolkien's Middle-earth." Dr. Brown gave a thorough definition of the concepts of "home" and "stewardship" in Tolkien's works.
Dr. Aurelie Bremont, "'We should look at green again': of magic, Green Elves, and the battle of good vs. evil." Dr. Bremont discussed traditional medieval interpretations of green, the splintering of the light in Tolkien's legendarium, and where Green Elves fit in the spectrum of Light and Dark Elves.
Kris Swank, "Travellers in Time: Tolkien and Joseph O'Neill." Kris Swank discussed these two modernist authors of time-travel narratives who used similar themes.
Penny Holdaway, "Would you buy a house from the architect of Bimble Bay?" Penny Holdaway's talk discussed "the rise of ecocriticism in the 1920's-1930's and how Tolkien's Bimble Bay series, particularly his poem 'Progress in Bimble Bay,' connects to that movement" (Programme, p 38).
Dr. Una McCormack, "'Not worth doing': Fanfiction Writers and the Fourth Age." Dr. McCormack explored some fanfiction stories dealing with the aftermath of the War of the Ring. Hers was one of a number of talks on fandom during the conference.
Marie Bretagnolle, "Artists in Middle-earth: Illustrating The Lord of the Rings." Marie Bretagnolle compared two sets of illlustrations, one from the 1977 Folio Society edition by Ingahild Grathmer and Eric Fraser and the other by Alan Lee in the 1991-92 edition. This was one of several presentations on art and illustration during the conference, including talks by and about artists.
Dr. Andrew Higgins, "Four Brethren Heroes of the Gondolindrim – Egalmoth, Ecthelion, Glorfindel and Legolas: A mythic and linguistic exploration." Dr. Higgins explored the philological and mythical aspects of these four characters present from the earliest Fall of Gondolin story.
Luke Shelton, "The Lord of the Rings, Young Readers, and the Question of Genre." Luke Shelton presented some very interesting results from his research, which indicates that young readers do not think of genre in the same way as adults: critics tend to apply single genre labels but young readers tend to be more inclusive.
William Sherwood, "Rewriting the British Literary Tradition: Keatsian Echoes in Tolkien's Early Works." William Sherwood discussed the echoes of Keats's poems in Tolkien's Book of Lost Tales I and II.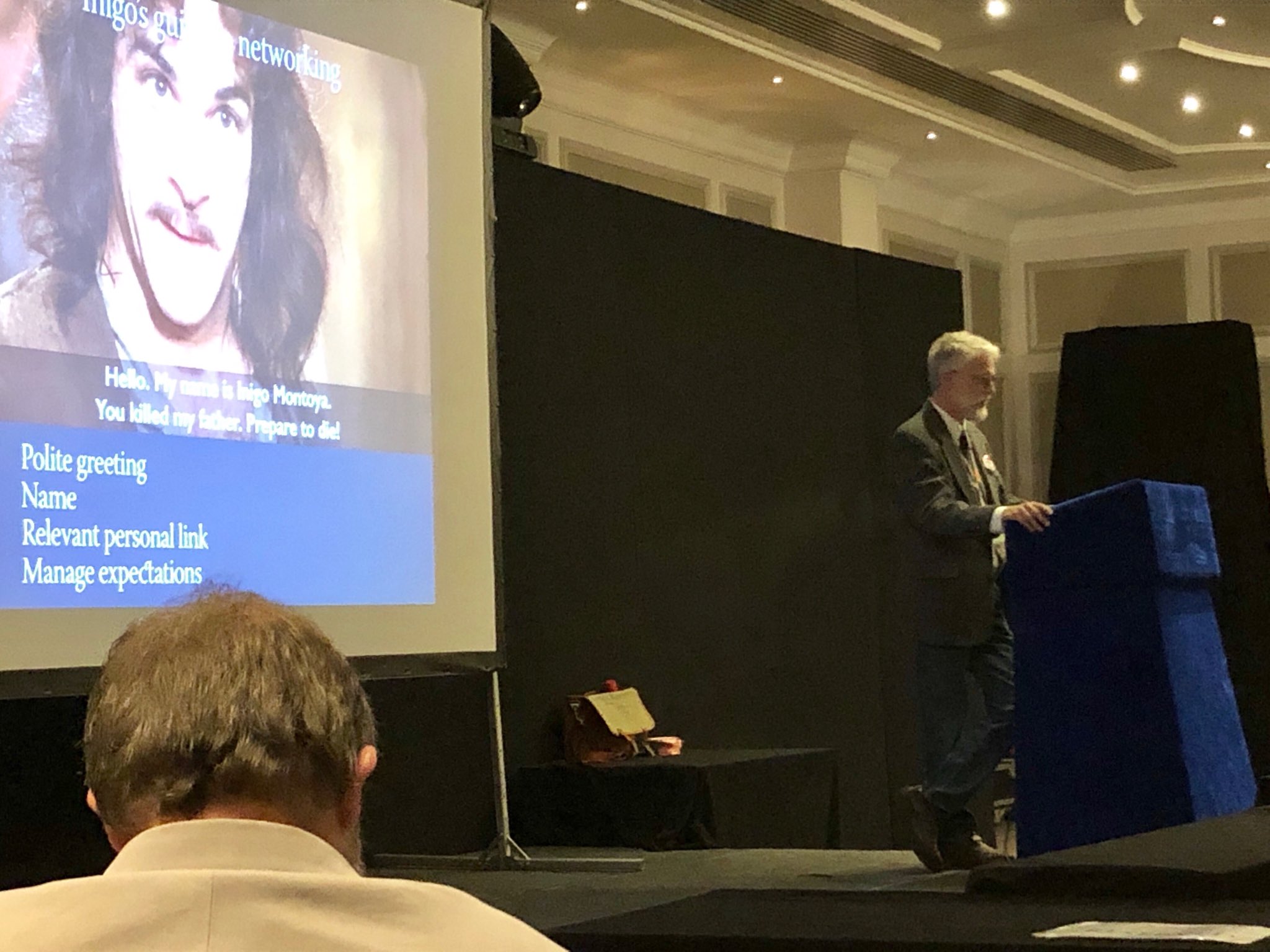 Erik Mueller-Harder, "The Lost Connections of Tolkien's First Map of The Lord of the Rings: Reconstruction." The photo shows Erik's first slide in his presentation but doesn't do justice to the way in which he expertly illustrated the layers and overlaps in Tolkien's first map of The Lord of the Rings. This was one of a number of interesting digital projects on Tolkien and his works, including those by James Tauber and Marquette archivist Bill Fliss.
---
As for my presentation — I'll add a summary in the next few days. Watch this blog!
Before I post the final item, I'll just mention Luke Shelton's thoughts on post-conference feelings and imposter syndrome. As Luke points out, after several days of being energized and "on," it can be hard for some people to come down. It's important to know that you're not alone in this feeling.
And now, if you've read this far, here is a treat: the closing plenary talk of the conference by Dr. Dimitra Fimi, in which she combines research and singing and audience participation in her "Tolkien, Folklore, and Foxes: A thoroughly vulpine talk in which there may be singing!" Enjoy!
(Please leave a comment if you've found some other good links about the conference.)